03/10/2020
Spring Issues Published
CDQ, CD, CCC available now!
The March issues of NCDA publications, Career Development Quarterly, Career Convergence, and Career Developments, are now available.
Watch your mailbox for the Career Developments members-only magazine. The March theme is "Work and Disability: Issues and Strategies in Career Development"

Read Career Convergence online anytime!
The CDQ is a benefit of NCDA membership. Members may access the electronic version of the Journal by logging in and clicking on Members Only Resources under their name, on the upper right side of the website.
The March 2020 issue of the CDQ is online and the Table of Contents is listed below. Read more details about the CDQ by clicking on Publications: Career Development Quarterly.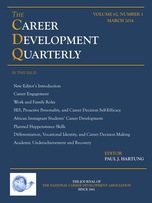 THE
CAREER
DEVELOPMENT
QUARTERLY
Volume 68 Number 1 March 2020
CONTENTS
Whole-Life Career Management: A Counseling Intervention Framework -
Andreas Hirschi
Self-Concept, Attitudes Toward Career Counseling, and Work Readiness of Malaysian Vocational Students -
Poh Li Lau, Tina Anctil, Guan Teik Ee, Jas Laile Suzana Jaafar, and Teoh Gaik Kin

Comparing Career Development Outcomes Among Undergraduate Students in CIP-based Versus Human Relations Courses -
Debra S. Osborn, Ryan D. Sides, and Caitlyn A. Brown

Counselor Actions to Facilitate Client Change During Life-Design Counseling -
Xiaopeng Tian, Zhi-Jin Hou, Danni Wang, Suzanne Savickas, Xueliang Chang, Ying Cao, and Yin Jia
Children's Career Expectations and Parents' Jobs: Intergenerational (Dis)continuities -
Íris M. Oliveira, Erik J. Porfeli, Maria do Céu Taveira, and Bora Lee
Early 20th Century Career Counseling for Women: Contemporary Practice and Research Implications -
Nuha Alshabani and Samsara Soto