Introduction to Credentialing
The online application process is NOW OPEN! Please click here to apply* for an NCDA Credential after reading the Introduction, Credentials Available, and FAQs.
*Please note: when applying, you will be leaving the NCDA website and will be directed to FluidReview. Please create a new account within this system. The NCDA credentialing database is not linked to the NCDA database and your NCDA login credentials will not work with the credentialing database. Please watch this short video on setting up your FluidReview account and applying for an NCDA Credential.

Introduction
The National Career Development Association (NCDA) is the recognized leader in developing standards for the career development profession, for the provision of career counseling programs and services, and for the evaluation of career information materials. Members and the public-at-large have repeatedly asked for clarification among the distinctions between the variety of practitioners providing career services.
NCDA believes the complexity in our field needs to be recognized by a variety of high quality credentials. NCDA has determined that setting up its own credentialing body will allow NCDA's standards and ethics to be upheld most effectively.
NCDA credentials are competency-based, as competency-based credentials provide a higher level of consumer confidence. Career professionals holding an NCDA credential will have met rigorous standards set by NCDA. Five NCDA Credentials are available.
Commitment ~ Competency ~ Certification
Here's what NCDA leaders are saying about the new credentials:
"The time is right for NCDA to recognize quality and aptitude in the delivery of contemporary career services with competency-based credentials from the industry's leading professional association. We believe that these credentials are a mark of distinction and excellence for career practitioners." -- John Long, Two Roads Resources, Inc. and Commissioner, NCDA Credentialing Commission.
"After years of consideration and planning, we now offer new credentials for career professionals. Individuals with an NCDA Credentialing Commission credential will have met rigorous standards set by the recognized leader in our profession. And we believe these competency-based credentials inspire a higher level of consumer confidence." - Dr. Constance J. Pritchard, The Pritchard Group and Chair, NCDA Credentialing Commission.
"Earning one of NCDA's credentials will ensure that you have the skills and knowledge to effectively serve your clients. When you've earned the credential, you will be able to confidently tell others that you meet the highest standards of the career development profession." – Paul Timmins, Director, Career Services, University of Minnesota and NCDA President, 2017-2018.
"NCDA has been the premier association for career development professionals for over 100 years. NCDA has the expertise, the knowledge base, and the capabilities to provide a solid credentialing service for its members. Qualified and competent career development professionals will now be able to earn credentials that are robust and meaningful." -- David M Reile, PhD, Executive Manager, Career Development Alliance, and NCDA President 2016-2017.
Look for the credentialing symbol and regularly visit www.ncdacredentialing.org for updates.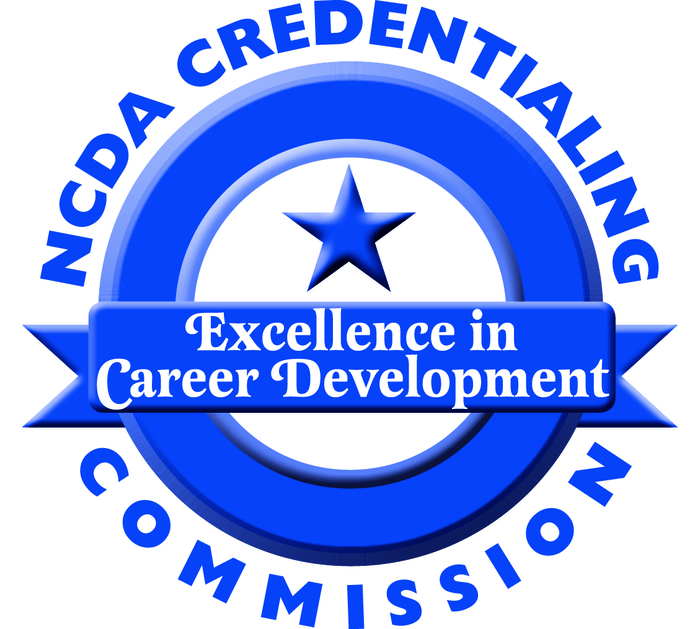 Credentialing