Details


Larger Image
ONLINE ACCESS, School Career Development Advisor Training Manual
SCDA Manual
Author/Editor: Veronica Tate, Rebecca Dedmond, Jennifer Stevens, Jennifer Landis-Santos
Year:
2017
Individual Orders ONLY. Order must be made by user to set up online access. Allow 3 days for processing order. A link to the individual email address to secured site will be given by email/receipt for online access. For assistance, please contact, nscrimsher@ncda.org.
The School Career Development Advisor (SCDA) Training is intended for providers who work with youth in many settings and help prepare students for meaningful work and managing their careers. These providers work with other staff to coordinate the design, implementation, and monitoring of school and community-based efforts to improve the chances of students entering the job market with skills, knowledge, and credentials to be competitive. A student manual is required for each participant in this training program.
Stock#: 231E
Publications
Featured Product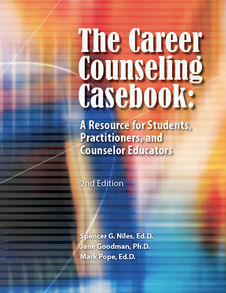 The Career Counseling Casebook
A Resource for Students, Practitioners, and Counselor Educators, 2nd Edition
The leading career development theorists and practitioners' present state-of-the-art career counseling strategies for helping clients resolve their career issues in over 40 different cases.
On sale for only $40 during the month of June 2020 (shipping and handling extra). Shop the NCDA Career Resource Store now!
Monthly Specials
---
Read More!
Many of our products include links to Book Reviews or Excerpts, which are also archived in our Career Convergence web magazine.